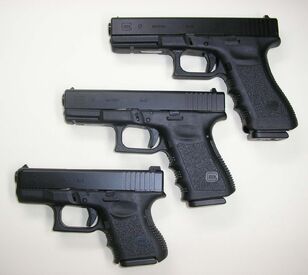 Weapon Name:Glock
Type Weapon:Hammerless Semi-Fully Automatic Pistol
Country of Origin:Austria
9x19mm Parabellum (Glock 17,18,19,26,34),10mm Auto (Glock 20,29),
.45 ACP (Glock 21,30,36),
.40 S&W (Glock 22, 23, 24, 27, 35),
.357 SIG (Glock 31,32,33)
.45 GAP (Glock 37,38,39)
Mag Capacity:Various
Introduced In:1982
Service Length:1982-Present
By the 1980s,The Austrian military needed a pistol to replace the World War 2 Walther P38 pistol.They wanted to make a pistol with a criteria list of 17.By 1982,Glock assembled the leading gun experts in Europe and within three months,Glock came out with it's first working prototype of the Glock pistol.
Criteria List
Edit
The design has to be self-loading.
The magazines would not require any means of assistance for loading.
The magazines must have a minimum capacity of 8 rounds.
All actions necessary to prepare the pistol for firing and any actions required after firing must be done single-handed, either right- or left-handed.
The pistol must be absolutely secure against accidental discharge from shock, stroke and drops from a height of 2 meters onto a steel plate.
Disassembly of the main parts for maintenance and reassembling must be possible without the use of any tools.
Maintenance and cleaning of the pistol must be accomplished without the use of tools.
The pistol's construction may not exceed 58 individual parts (equivalent of a P38).
Gauges, measuring and precise testing devices must not be necessary for the long-term maintenance of the pistol.
The manufacturer is required to provide the Ministry of Defence with a complete set of engineering drawing and exploded views. These must be supplied with all the relevant details for the production of the pistol.
All components must be fully interchangeable between pistols.
No more than 20 malfunctions are permitted during the first 10,000 rounds fired, not even minor jams that can be cleared without the use of any tools.
After firing 15,000 rounds of standard ammunition, the pistol will be inspected for wear. The pistol will then be used to fire an overpressure test cartridge generating 5,000 bar (500 MPa; 73,000 psi) (the normal maximum operating pressure Pmax for the 9mm auto is rated at 2,520 bar (252 MPa; 36,500 psi).The critical components must continue to function properly and be up to specifications, otherwise the pistol will be disqualified.
When handled properly, under no circumstances may the user be endangered by case ejection.
The muzzle energy must be at least 441.5 J when firing a 9mm S-round/P-08 Hirtenberger AG.
Pistols scoring less than 70% of the total available points will not be considered for military use.
Present DayEdit
For the last 30 years,The Glock has made it's mark and still used by the military today,Known as "The Greatest Handgun in the World".